Green-T Professionnal Turntable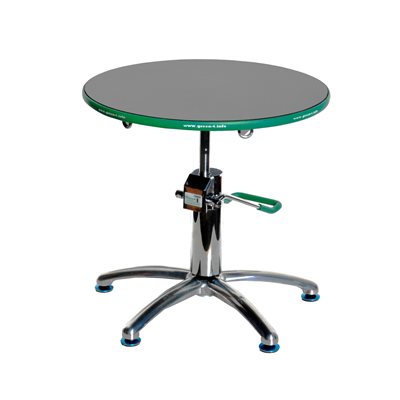 Press and move to zoom.
Mouse over image to zoom.
Product Code: OUT-0228
We are finally pleased to announce the arrival on the Canadian market of one essential tool that will help thebonsai enthusiast of every level to work more efficiently and comfortably on their trees. In Japan everyonehas always been using hydraulic lift turntable, but their prohibitive costs have limited their spread in the west.Thanks to the researches and the collaboration of well-known professionals in the bonsai world, we are ableto offer you a tool inspired by the Japanese conventional table but improved in several details.
Bigger
The board is 23 in diameter instead of the usual 20 in allowing you to work the most impressive materials aswell as the smallest trees. You can comfortably use the exceeding space to have your tools easily accessiblenext to your bonsai.
Stronger
The board is made out of phenolic marine plywood of pine which is painted and coated in solid non sliprubber ( 0,16 in thickness Shore A hardness 70 ).Lifting capacity up to 440 lb.Tightening screws and threaded bushes are completely made from stainless steel.All the materials used in the construction of Green T guarantee an excellent outdoor weather resistance
Usefulmetal base with 5 star support and hydraulic pump lift by foot control. Adjustable height of the bearingsurface (minimum 17 in. - maximum 24 in. ) The swing brake of the table can be disconnected with a simplemovement of the pedal. 5 removable eye screws, located in the lower part of the work plan, allow a solidanchor of the bonsai to the table.
LightestWhile having superior characteristics to a Japanese turntable, Green T has the same weight of its Japanesecompetitors: 33 lb.
Made in Italy
* Please note: this product will be delivered within 7-10 business days of receipt of order.
* Requires some easy assembly
In 2017, it was used by the most famous masters at the World Bonsaï Congress in Japan. Here are some pictures :
Green-T at WBC Japan 2017