Tsuga Canadensis Moon Frost
Tsuga Canadensis Moon Frost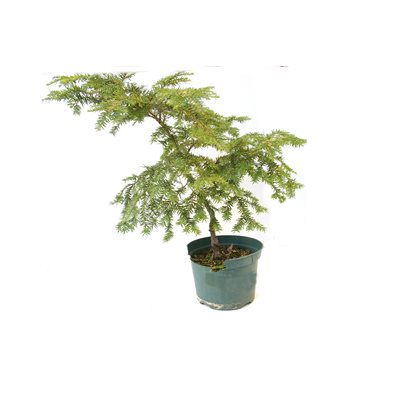 Press and move to zoom.
Mouse over image to zoom.
Product Code: SRU-0034
Pruche du Canada (Tsuga canadensis)

La pruche est une essence bien adaptée au bonsaï car son feuillage est petit, délicat et les branches s'étalent naturellement à l'horizontale.De plus, étant rustique au Québec, sa culture en est facilitée puisqu'elle ne nécessite pas d'adaptation très particulière.Son feuillage vert tendre au printemps contraste magnifiquement bien avec celui de l'année précédente. Ce qui lui confère un charme tout en délicatesse.

En été : Emplacement à la mi-ombre à un endroit frais et humide.

En hiver : En serre froide ou au jardin dans un secteur bien enneigé en enterrant le pot jusqu'au rebord. Une petite protection pour protéger les branches du poids de la neige est un atout.

Arrosage : Régulier et généreux. Ne tolère pas la sécheresse.

Fertilisation : Biogold pendant toute la période de croissance active.

Rempotage : Rempoter au printemps lorsque les nouveaux bourgeons commencent à se faire visibles.

Substrat : Bien drainant. pH 4.5 – 6.5

Parasites : Plutôt résistant.