Ficus Microcarpa Green Island (Over Rock)
Ficus Microcarpa Green Island (Over Rock)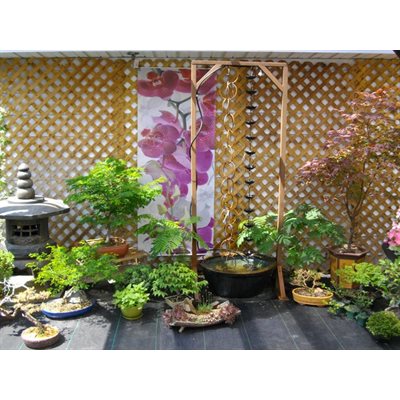 Press and move to zoom.
Mouse over image to zoom.
Product Code: TRO-0155-12A
Ficus
Originaire des régions tropicales et subtropicales le genre regroupe plus de 600 espèces.
En été :
À l'extérieur, exposition plein soleil.
En hiver :
Sous éclairage néon 12 à 14 heures par jour à l'intérieur ou à l'endroit le plus ensoleillé de la maison (plein sud). Tourner la plante de temps à autre pour une exposition plus uniforme du feuillage à la lumière.
Arrosage :
Le ficus aime que le sol sèche entre deux arrosages. Arroser modérément en hiver et puis davantage en été surtout si l'arbre est à l'extérieur.
Fertilisation :
Un engrais liquide de type 20-20-20 dans la période de croissance peut être utilisé en alternance avec un engrais organique de type Biogold.
Rempotage :
Rempoter pendant la période estivale fin mai – juin -juillet- août au Québec.
Substrat :
Bien drainant. Un substrat comme le Chabasai convient très bien.
Parasites :
Surveillez les cochenilles.